Notice about AirBuddy volume indicator in macOS Sonoma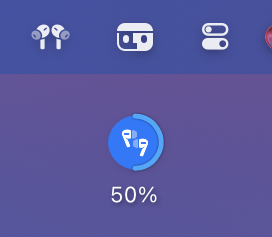 If you're running macOS Sonoma and using AirPods Pro (2nd generation) with the "Personalized Volume" feature enabled, it's possible that you'll see the AirBuddy volume change indicator when the AirPods Pro are adjusting the volume automatically when reacting to your environment or the content you're currently listening to.
Apple has acknowledged this issue with third-party apps that have volume indicators in the release notes for macOS Sonoma, but has not provided a solution yet.
A future update of the app will address this issue so that the volume indicator doesn't show up when the AirPods are adjusting the volume automatically.
In the meantime, there are a couple of options to work around it:
Option 1: Disable AirBuddy Volume Feedback
Launch AirBuddy settings by clicking the gear icon in the Menu Bar window or launching the app from Finder
Select the Audio tab
At the bottom, for "Volume Feedback", select "Disabled"
Option 2: Disable Personalized Volume
Make sure your AirPods Pro (2nd generation) are connected to your Mac
Open System Settings
Select your AirPods Pro on the side bar
Find the "Personalized Volume" toggle and turn it off